The programme for women in yachting to transform your habits around health, confidence & boundaries, and step into the most confident & vibrant version of you.
Fierce & Energised is for women in yachting who are ready to become courageously confident & vibrant, by creating liberating, sustainable healthy habits & an empowered AF mindset.
Yachting isn't just about cleaning, cocktails & amazing locations. It's also looking after YOU, feeling vibrant & confident AF & not letting people walk all over you.

You'll learn my powerful Fierce & Energised Formula to help you step into the most confident, glowing version of you.

Learn to say goodbye to overwhelm, frustration & self doubt around your health & confidence & a big HELLO to the next level, vision board version of you.

The programme consists of a portal of transformational video trainings, workbooks & resources, monthly group Zoom calls, where you'll have the chance to get personalised coaching, plus access to an exclusive Facebook community!

P.s. if you're a Chief Stew onboard a yacht and want your whole team to experience this programme, email me at hello@georgiarex.com to arrange a discounted package.
This is for you if...
You feel like self doubt, fear of failure & comparison stop you living your best life. You also set unrealistic goals & expectations on yourself & end up feeling disappointed or overwhelmed.
You find it hard to maintain healthy habits, & even when you know what you should be doing with food & exercise, you aren't always doing it, which leaves you inconsistent, frustrated & unmotivated.
You're fed up of people speaking down about the work you do & having people not take you seriously, and you want to start confidently speaking up for yourself & your team.
You find yourself going along with plans & idea that you don't want to do, cos you find it hard to say NO & it leads to you feeling frustrated like a doormat.
The Fierce & Energised transformation process you'll go through...
Create Unshakeable Self Belief
Learn to transform the old, negative, outdated stories & beliefs you tell yourself which are keeping you stuck in self doubt & comparison. *I can't do X, I'm no good at X...* (you know the ones!)
Communicate with Power
You'll learn to set firm boundaries around where your time & energy go, plus learn to confidently ask for what you want, speak up for yourself, say no & STOP trying to please everyone.
Upgrade your Energy & Create Food Freedom
How to look after YOUR body using intuitive eating, mindful movement & your menstrual cycle, in a way that's LIBERATING & sustainable, rather than a way that feels like a chore, which you can't stick to.
Take Liberating, Expansive Action
IMPLEMENT what you learn & make it suit YOUR lifestyle by developing healthy habits & routines that you can actually stick to (rather than setting unachievable goals & getting frustrated when you don't stick to them!)
If you continue to struggle with keeping healthy habits, comparing yourself to others, doubting yourself, not balancing work & personal life, saying yes to everything & putting everyone else first because you struggle to say no, then you'll end up feeling frustrated, unhappy, resentful & burnt out.
This is the step by step process to becoming *that girl* that actually works. The healthiest, happiest, most confident version of you.

These are the tools & techniques which I use with my private clients! But I've just put it into an online course for you, so you can study in your own time.

Here's some ladies I've worked with & what they had to say!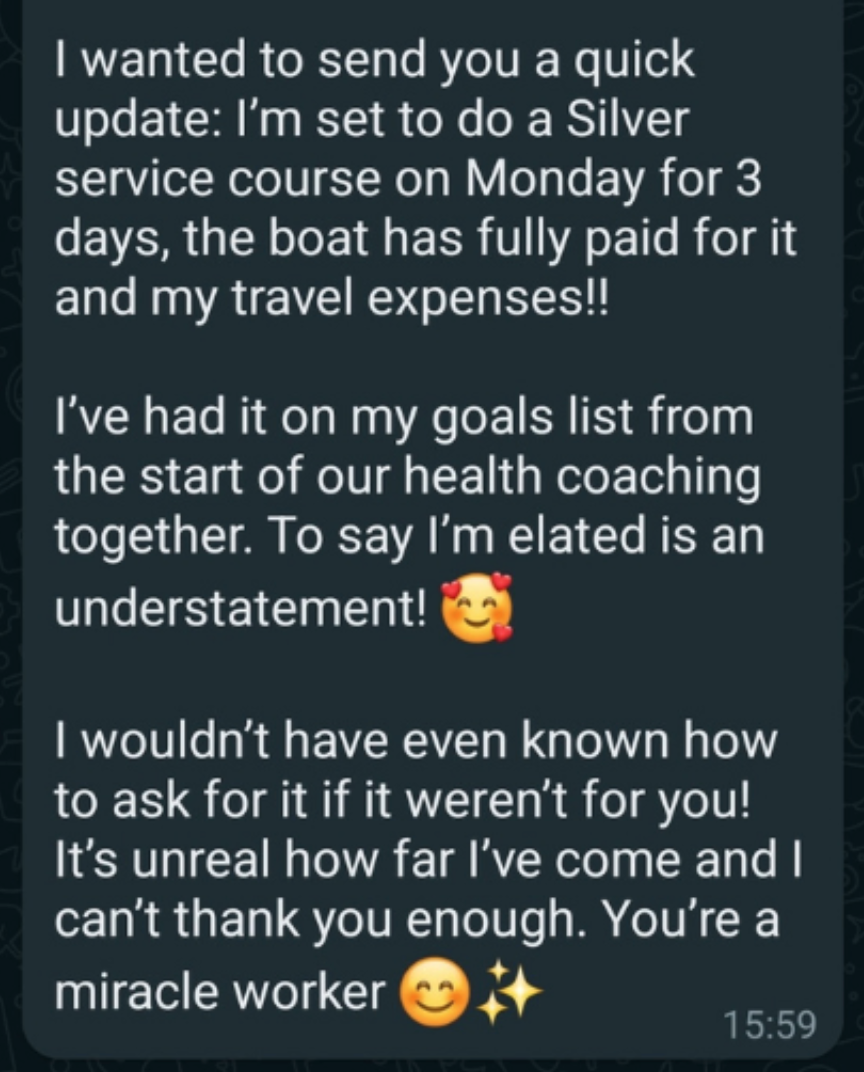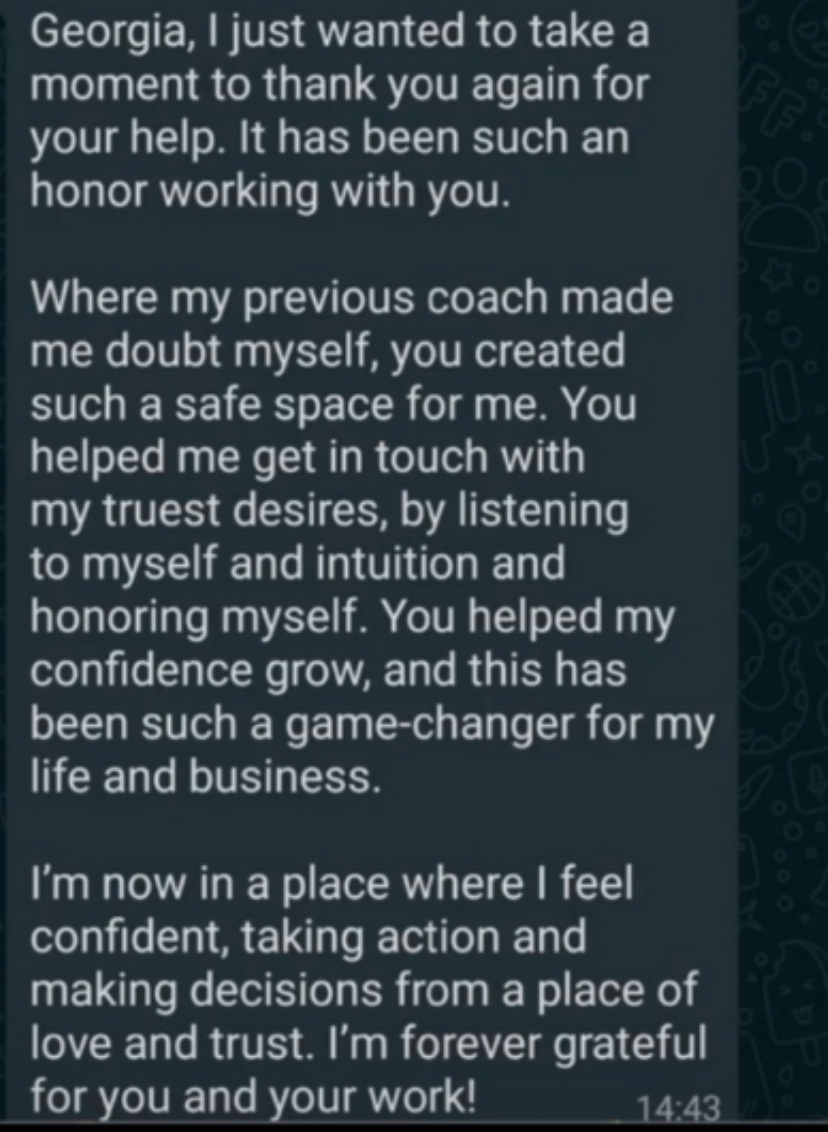 This amazing lady below cleared her acne when we worked together through making lifestyle changes!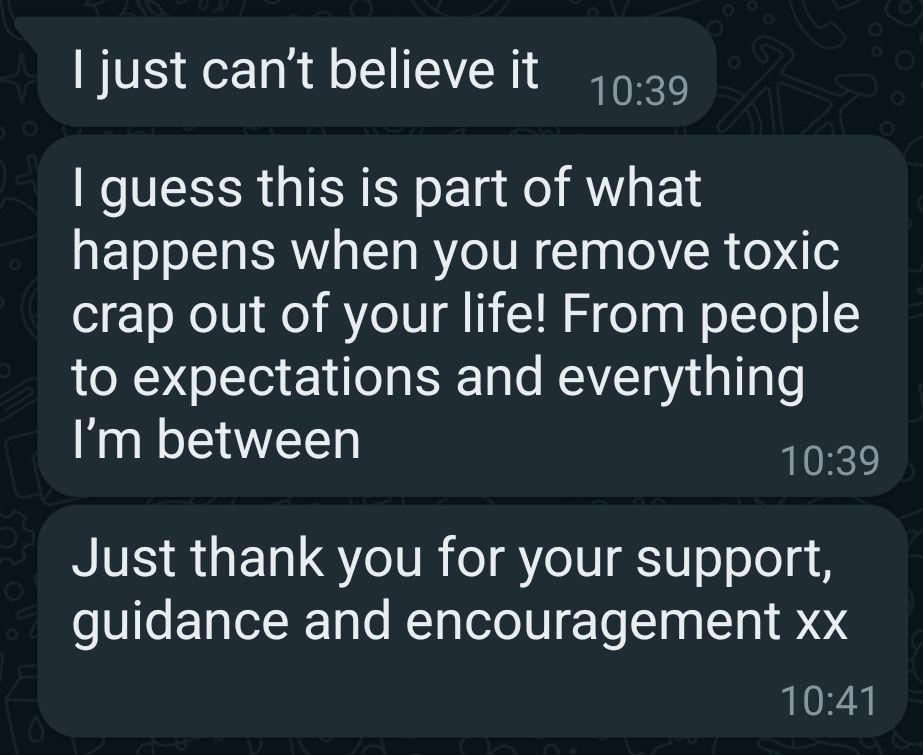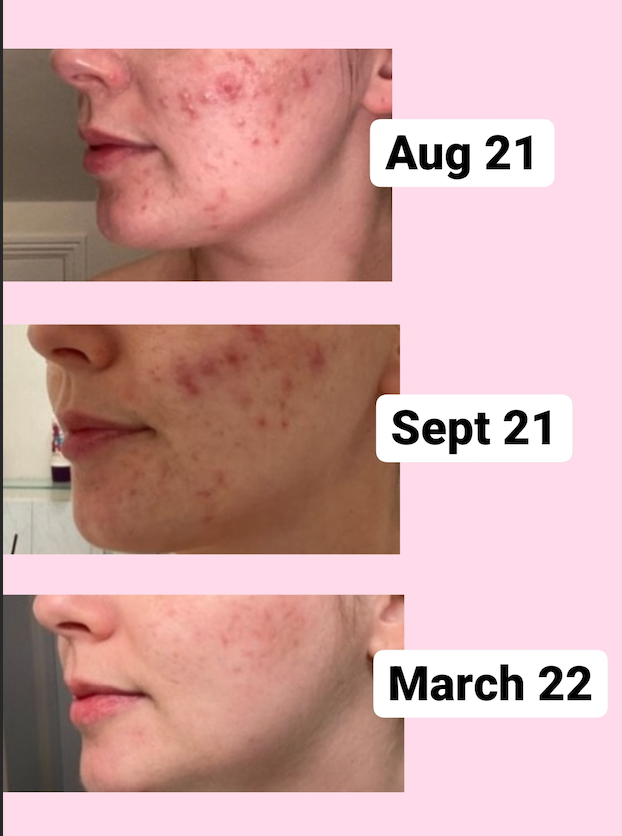 How we'll get you to your transformation (structure of the programme)
Access to a Portal of trainings:
One year access to a full portal of video trainings, workbooks & a bank resources. Includes 5 powerful training modules to take you through everything you need to become the most confident, vibrant version of you.

I HIGHLY recommend going through the modules one at a time, as this gives you time to implement what you learn.
*Scroll down for more details about the Portal

Monthly group Zoom calls:
You'll have access to monthly group Zoom coaching calls for the first 6 months. This is your chance for hot seat coaching, personalised support & to get your questions answered.

Access to a private Facebook community:
Connect with a group of likeminded women.
You'll learn to...
Set boundaries around where your time & energy goes + how to confidently speak up for yourself & tell people no.

Develop liberating, sustainable healthy habits around confidence, food & exercise.

Step into your worth, independence & start taking care of YOU.

There are monthly payment plans available too!
Hey, I'm Georgia!
I'm a certified Health & Life Coach. I'll help you become the most Fierce & Energised version of YOU, by transforming your habits around health, confidence & boundaries
I'm also a yoga teacher, ex Superyacht Chief Stewardess & Harry Potter nerd.
The Portal
You'll get one YEAR access to a full portal of video trainings & workbooks, specifically designed to take you to total body & mind confidence. Here's how...
Module 1: Creating the habits to become a highly successful & energised YOU
Identify where you are now, VS who you want to BE.
Create powerful morning & evening routines.
How to develop SUSTAINABLE, liberating healthy habits.
Module 2: Transform your mindset & create unshakeable self-belief.
Break free from the outdated mindset causing you to stay stuck in self doubt. Rewire how you speak about yourself, your body & your self worth.

This is ABSOLUTELY the foundation to total confidence, as these stories you tell yourself, will keep you stuck otherwise.
Module 3: Create Bold AF Boundaries
How to say no & ask what what you want.
Stop being a people pleaser & learn to confidently speak up for yourself.
How to balance your energy in a very masculine society.
YOU get to choose where your time & energy goes or you'll wind up burnt out & resentful.
Module 4: Enjoy Food Freedom
Say goodbye to overwhelm about what to eat.

Identify & create the YOU diet; the personalised way of eating that works for YOUR body & your lifestyle. (Without dieting or food restrictions!)

Switch your food mindset from one of restrictions & 'I can't eat X, Y, Z' to one of NOURISHMENT (in a way that's simple & sustainable, where you can still eat the chocolate.)

Gut health; what is it & why it's SO freakin important.
Module 5: Upgrade your Energy
How to set yourself up for success with exercise using mindful movement & STOP feeling like it's a chore.
Tapping into your menstrual cycle so you can work WITH it, rather than feeling like it's an uphill battle every month.
+ bonus meditations to boost your confidence & self belief.
Pay in full
One off payment
£399
Payment plan
3 monthly payments
£148 x 3
Payment plan
6 monthly payments
£84 x 6
Created with